Gentle, Experienced Dentistry from Clinton Township's Dentist of Choice
Whether you need a dental cleaning or a full tooth restoration, Pleasant Dental can give you the care that you need!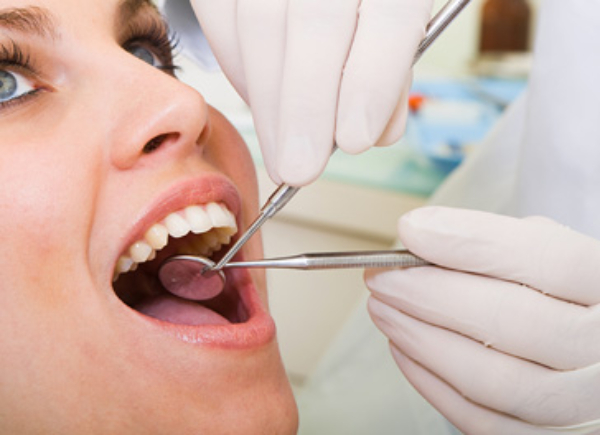 With an experienced team and an accessible location, our dental office promises to provide our patients with exceptional care. Our services are provided with a gentle touch and a careful eye, ensuring that your smile is in great hands! Your oral health is our top priority, and our great staff keeps you smiling.
At Pleasant Dental, we take a comprehensive approach when it comes to our patients' oral health.
We think that prevention is key, so we make sure to work with you to understand everything needed about your smile. This is a cooperative effort between you, Dr. Albaghdadi and our team of hygienists. We work hard to preserve your teeth's natural definition and the rest of your mouth from diseases. By practicing good oral hygiene, a balanced diet and regular trips to our dental office, you can promote and maintain proper oral health! Preventative measures help to avoid serious and costly dental problems, saving you time, money and pain in the future! 
When you schedule an exam with us, you can expect:
Diagnostic X-Rays – These check for tooth decay, bone loss, tooth positioning, incoming wisdom teeth, tumors and more.
Gum Disease Evaluation – We'll examine gums and teeth for any symptoms of periodontal disease. 
Tooth Decay Exam – All teeth will be checked for any potential decay. 
Oral Cancer Screening – We thoroughly evaluate your mouth for any signs of oral cancer.
Examination of Existing Fillings, Crowns and More – We check to ensure that these are still strong and healthy. 
Thorough Tooth Cleaning – We use fluoride, sealants and high-tech equipment to rid your teeth of any built-up plaque. 
Many people don't realize they have a cavity until the tooth hurts, at which point it has become seriously decayed. Many dental offices don't have the technology to locate decay before the patient brings it to their attention. However, Pleasant Dental has invested in state-of-the-art technology that lets us diagnose tooth decay very early, before it begins to spread. Our high-tech imaging system lets us take precise, accurate readings of your teeth, and locate even the smallest cavities before they begin to cause serious damage.
Natural-looking white fillings are created to match the color of your teeth. White fillings are used to correct the same damage or decay a metal amalgam filling would correct, but white fillings provide a more natural look. They are placed by first removing the decayed portion of the tooth. Then, Dr. Albaghdadi will etch the tooth so that the white filling material will bond to the tooth better. After, a bonding agent is brushed onto the tooth, followed by several layers of the composite white filling material. Once the decayed tooth is filled with the white filling material, a special light is used to harden and bond the white filling to your tooth. After the tooth has been hardened, it is polished and shaped to match the rest of your teeth and your bite. In order to have your next tooth reparation performed with a white filling, or to have your old metal amalgam fillings replaced with white composite fillings, simply contact us!
Our dental office utilizes the most advanced technologies, including:
igital X-Rays – This machine is just like the classic film x-rays you grew up with. Our digital x-ray machine takes high-quality photos of your teeth, checking for possible diseases and tooth growth. 
3D Dental Diagnostic X-Rays – This kind of x-ray takes panoramic images of your mouth, meaning we can see your mouth as a whole in one photo and offer you the best diagnostic care possible! 
CBCTs (Cone Beam Scans) – A CBCT machine is used when more detail is needed to be seen than can be done with a digital x-ray. This machine shows the definition of your teeth, tissues, nerves and facial bones in one scan.
Soft Tissue Lasers – This laser allows for the highest level of precision and care when we need to cut through tissue during surgery. It works quickly and carefully, ensuring that each surgery is completed with total accuracy. 
Electrosurgery Technology – Our electrosurgery systems aid in sterilizations of root canals, whitening procedures and gingival curettage surgical procedures. 
Intraoral Cameras – Our high-tech intraoral cameras are used to show each of our patients the insides of their mouths, a way more effective option than a mirror. 
Offering gentle services, a friendly staff and quality dental care, Pleasant Dental is your new choice for dentistry! Contact us today to schedule your initial consultation.

Schedule a
Free Consultation
* Indicates required questions
Great Dental Care is Just Around the Corner
Hours of Operation:
Mon, Tues, Thurs: 9AM-5PM
Wed & Fri: 9AM-2PM
Saturday: 9AM-3PM
Sunday: Closed