Affordable Dentures in Clinton Township, MI
Our experienced team helps people explore their options with dentures and partial dentures.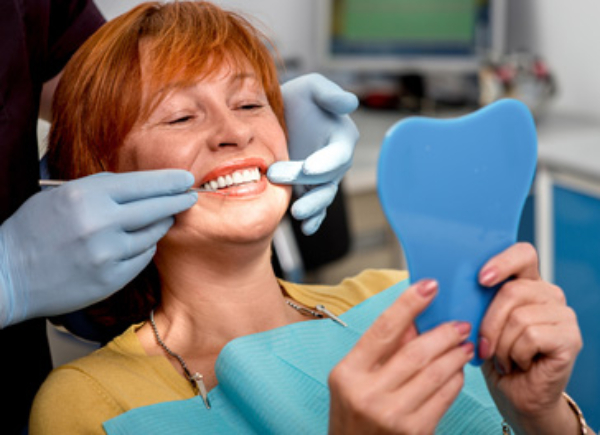 Offering the most comfortable dentures in the area, Pleasant Dental has provided countless patients with the option to enjoy their teeth again! When you're missing teeth, the overall quality of life becomes more difficult. Your appearance looks more sunken and chewing is difficult. Dentures fill your smile, give you a functional bite and restore your confidence! At Pleasant Dental, Dr. Albaghdadi applies soft dentures, which are a flexible alternative to the common hard dentures made of acrylic. These dentures don't require adhesives and adjust to the shape of your gums for greater comfort!
Why should I get dentures?
Eat the Foods You Love 
Restore the Beauty of Your Smile
Keep Muscles in Your Face from Sagging
A new, customized smile – just for you!
When Dr. Albaghdadi creates an appliance to replace your missing teeth, you can expect a keen eye for detail and a focus on your comfort. He first takes an impression of your mouth to create your custom denture. Once you have your new dentures, we'll schedule an additional couple appointments so as to make small adjustments that get you the most comfortable fit. 
Are you only missing a few teeth and need them replaced?
Patients who only need a few teeth have the option of receiving partial dentures. These only are applied to part of your mouth and seamlessly match your other teeth! Your partial denture is a prosthesis that attaches to your remaining teeth. It has replacement teeth which fit snugly into the spaces your missing teeth left behind, and secures with metal clasps. They're easy to take in and out and look extremely natural! 
Advanced denture options for more complex mouths.
While dentures look like real teeth, they need maintenance that regular teeth do not. For patients who dislike the comfort, maintenance and stability that dentures demand, Dr. Albaghdadi offers implant supported dentures, allowing you the luxury to feel comfortable wearing your dentures!

Schedule a
Free Consultation
* Indicates required questions
Great Dental Care is Just Around the Corner
Hours of Operation:
Mon, Tues, Thurs: 9AM-5PM
Wed & Fri: 9AM-2PM
Saturday: 9AM-3PM
Sunday: Closed